For some reasons that are not fully clear to us, the autumn months are generally not perceived as positively as the summer ones. At Fluff, however, we know that autumn is not at all boring, gray or depressing – especially from a wardrobe point of view. It is the time of the year that favors creative fashion solutions, the time when original accessories steal the center of attention while light and airy clothes slowly give way to those warm and dowdy. What is worth having in your closet in September? What is worth thinking about in advance? Check out our suggestions for you and your children!
Fashionable denim jacket: an inter-seasonal hit
Some summer clothes make us reluctant to part with them. When it comes to the others, on the other hand, we do not have to part with them at all – because of their inter-seasonal nature, they can be worn all year round. A perfect example here seems to be one of the undisputed fashion classics, namely a loose denim jacket. In summer and early autumn, it works well as an outer garment for some cooler days and evenings, while when it gets colder, it can become a cohesive element that complements a wide variety of styling.
The Fluff denim jacket features a modern oversized cut with an extended back, a lapel collar and two front pockets. It looks great in many configurations – it will neatly blend into both everyday smart casual work sets and much less formal ones. An intriguing fit for this jacket may turn out to be our wide brown leather pants – perhaps this autumn duo is just made for you?
Fluff bestsellers for the transitional period
Autumn months in our latitudes can be really whimsical. Sometimes it only takes a few minutes to go from gray and giddy to the warm and sunny moments. That's why during this time, it is truly worth having in your closet some lightweight, functional outerwear adapted to the changing weather conditions.
One of Fluff's hits that fits this description perfectly is the lightweight 2-in-1 down jacket, which, after unfastening the sleeves, becomes a stylish vest within seconds. You can successfully wear it even into November – thanks to the down filling it will protect you from the cold even when the temperature drops to 5-7 degrees Celsius. Looking for another practical element of your closet for the transitional period? Check out our double-sided women's vests that provide you with two colour versions of the same garment.
Lightweight jackets and vests for the start of the school year
Returning to school after summer vacation often proves to be quite a challenge – both for children and their parents. After all, the beginning of the school year is always associated with the need to implement a new schedule of the day, to find oneself in the daily routine, and to make many decisions. To make this time easier, it is advisable to minimize the necessary efforts wherever you can – for example, in terms of daily clothes. How to do it?
First of all, it is advisable to enrich your child's closet with a few versatile pieces that go with almost everything, such as a lightweight transitional double-sided down jacket, which simply needs to be turned inside out to become a garment of a completely different character. This is a typical ultralight jacket, windproof and waterproof, with convenient pockets and filled with top-quality hypoallergenic goose down. Another interesting proposition seems to be a compact sleeveless ultralight vest – very practical for sunny, but already a bit chilly days. It doesn't take up a lot of space, so if the sun suddenly starts shining stronger, you can easily fold it up and stow it in your backpack.
Active autumn: comfortable sweatpants and sweatshirts
The autumn months are often spoken and written about mainly in the context of snuggling under a blanket and relaxing with a good book or TV series. There's nothing wrong with that, of course, but with a little help from Fluff you can break this stereotype. In our opinion, it's hard to find something more enjoyable than being active in the fresh air, the crisp autumn air. Walking, biking, jogging, badminton or other forms of exercise will put you and the whole family in a great mood – so there's no avoiding them! As they say: there is no such thing as bad weather, you can only be inappropriately dressed…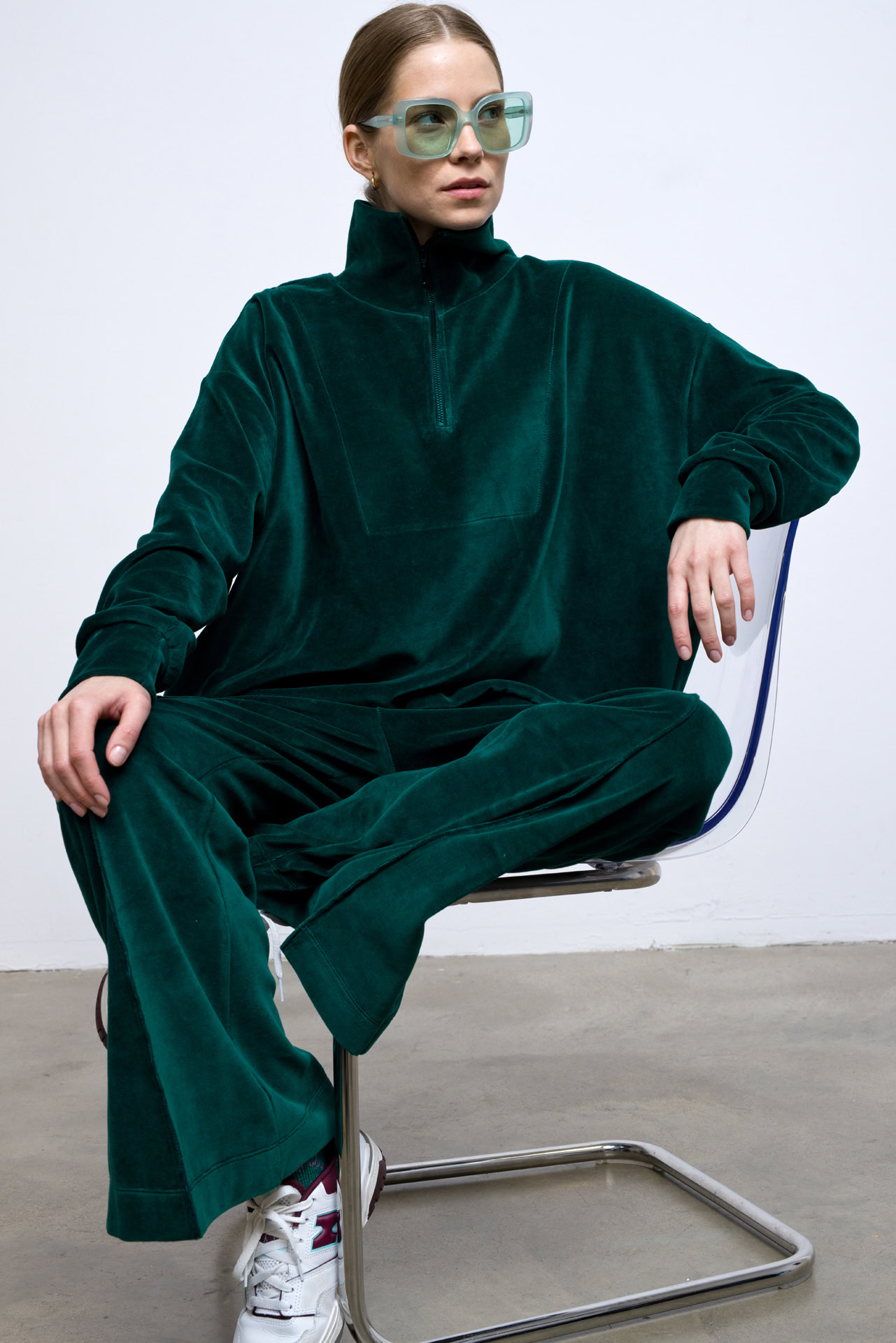 However, with Fluff, the latter will certainly not be a serious threat to you. In our offer you will find extremely soft velvet sweatpants sets with a loose, comfortable cut, which will effectively protect you from the cold while training outside. Pants with wide bootcut legs, an elastic waistband and handy pockets, as well as a comfortable sweatshirt (in two cuts to choose from: with shoulder pads or zippered with a higher collar) will give you full freedom of movement. The soft, delicate fabric which they were made of makes the Fluff sweatpants a great option also when you'd rather classically, lazily settle under a blanket… 🙂
Accessories for autumn for the whole family: corduroy flat cap, denim hat, mohair hat
Quite naturally, in autumn we usually pay special attention to accessories – especially headwear that protects us from the cold and wind. In addition to the purely pragmatic dimension, they often turn out to be an important, eye-catching accent to our styling. Hats and caps, which you will find in Fluff's offer, combine these two aspects in a graceful and tasteful way. It's then worth equipping the whole family with our stylish offerings, such as:
A bucket denim hat with a drooping brim reminiscent of the 90s style, perfect for sunny autumn days;
a men's corduroy flat cap in a fashionable shade of navy blue, also available in smaller sizes as a child's cap – although it's moms who more often opt for matchy-matchy styling with their kids, why not give dads a chance to do so as well?
mohair beanie hat with a blend of baby alpaca wool – extremely soft and lightweight, and great for keeping warm even when temperatures start to settle around zero.
Move ahead: buy a winter coat, down gloves and more today
September is also a good time to think about down jackets and warm accessories for winter. You may think it's still too early for that… We know from experience that our Polish down jackets are very popular and some models are going like hotcakes. This is the case, for example, with the popular children's Mountain series, especially the 2-in-1 models (at the moment they are still available in Poppy Red, Black, Cafe Latte and Cobalt colours). These jackets usually sell out really quickly – so if you wish for a particular color and size that is currently available in our store, don't think twice about ordering it right now.
In a similar mode – that is, some time in advance – it is worth buying, for example, a winter down coat or accessories such as down gloves. If the size or color you're interested in is currently unavailable on our site, don't worry – we'll soon be restocking the offer with previously sold-out sizes and color versions. We recommend that you sign up for notifications about the availability of the item you are interested in. This way the information will reach you the fastest, allowing you to place your order before the next batch sells out. 🙂