Overcome packing struggles with Fluff!
Summer closet can truly be a rather complex subject – especially in the context of holiday travel. Climate change brings many surprising weather phenomena and gray and rainy weeks suddenly turn out to be as likely as almost unbearable heat waves. How, therefore, to pack yourself and the kids wisely for a vacation, so as not to be caught out by the weather conditions? Check out some reliable suggestions from Fluff, ranging from UV swimwear to ultralight down jackets, and be prepared for any weather!
UV clothing – the best choice for active family trips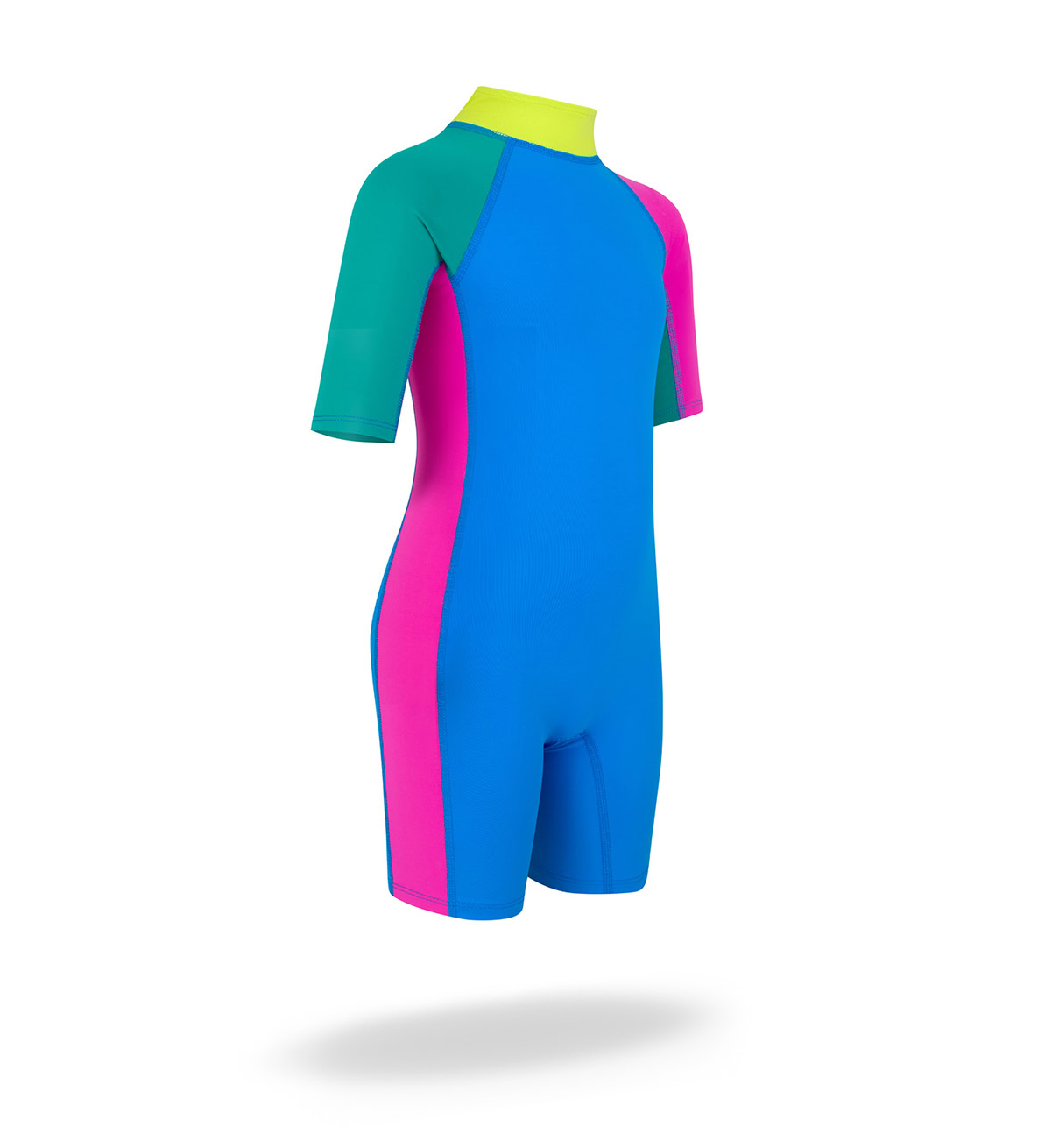 To fully enjoy the vacation carefree, it is worthwhile to enjoy the charms of summer in a wise way and protect yourself from potential dangers, such as UV exposure. Unfortunately, classic solutions – sunscreen or sunscreen oil – are sometimes unreliable, especially in the case of toddlers. This is because it is necessary to apply the filter regularly and rather often, which is quite frankly easy to forget to be done in a relaxed holiday atmosphere. Some children are also not very fond of applying cream and the feeling of greasy skin afterwards.
The answer to these problems may be a unique collection of UV-filtered clothing from Fluff. Made of innovative fabric with UPF 50+ filter, blocking 98% of harmful UV rays for maximum protection from the sun. The comfortable fit, zippered closure and chlorine resistance make these garments the perfect choice for vacations or camps where beach activities are at the centre of attention. Take a look at our online store and complete the perfect fit for you and your children!
Fashionable accessories for summer evenings: denim jacket and shirt
Tropical nights with temperatures above 20 degrees Celsius are something to be expected in our climate nowadays. Just as often, however, the twilight of a warm day brings a sudden decrease in temperature. It would be an exaggeration to say that we then freeze in lightweight tops and strapless dresses, but you'll probably agree with us that it's much more comfortable to have something with long sleeves prepared for such a situation, right?
Casual, timeless denim will certainly prove a graceful companion for evening outings with friends, outdoor meet-ups or long celebrations in the garden by the barbecue. The modern Fluff Premium Denim Jacket with widening shoulder pads, an extended back and two roomy front pockets is a versatile lightweight outer garment, ideal for summer and early autumn. It will go great with a variety of casual styles – from wide-leg pants to more fitted short dresses. If you prefer a slightly more classic cut, you're sure to like the denim shirt from the same series – simple, comfortable, with a button front.
Fluff bestsellers for rainy and cool vacations: ultralight down jackets, ponchos, 2-in-1 jacket
Summer, of course, is not always hot – the weather can sometimes be really capricious. Is there anyone who has never had a rainy and cool vacation in the mountains or at the seaside? It is unlikely – the forecasts can be really deceiving sometimes. Prepare for such a case as well, taking with you some versatile, stylish clothes for colder days. In Fluff's online store, we have suggestions for you just made for such situations.
One of our favourites is the women's poncho – a jacket with a loose and casual oversize cut, at the same time light and warm thanks to its filling of 100% natural goose down. Made of windproof and waterproof fabric. It will be perfect for unhurried walks at the seaside or relaxed hiking in the mountain valleys when the weather is bad. Another practical piece of clothing for trips at the end of summer can be our lightweight transitional 2-in-1 jacket. Ideal for changing weather. It will effectively protect you from wind and cold, and if necessary – thanks to detachable sleeves – you can quickly turn it into a comfortable vest.
When it comes to children's suitcases, on the other hand, it is worth packing a practical and stylish ultralight down jacket. This is an ideal choice for trips: thanks to its compact structure, it does not take up much space in your luggage, and on cool, windy and rainy days at the end of summer and in early autumn they turn out to be really irreplaceable. A wide selection of transitional ultralight jackets from our best-selling series awaits you in Fluff's online store. Take a look there with your kids and together choose the optimal model and colour for you.
A stylish and practical addition to such inclement-weather outfits for the little ones can also be an easily adjustable 90s-style corduroy cap, available in three fashionable colours that will go well with the rest of the outfit. This comfortable outdoor headgear will effectively protect your kids against wind and cold while exploring new places and connecting with nature.
Get ready for autumn with Fluff 
Long days imperceptibly turn into long evenings, temperatures gradually drop, and the alluring threads of gossamer are romantically floating in the air. Autumn usually comes much sooner than we expect! It's a good idea to think in advance about refreshing your autumn closet and avoid compulsive last-minute shopping decisions later.
In Fluff's wide and varied offer, you are sure to find what you need for yourself and your family. Why not shop around today for practical, warm pieces of clothing, such as a stylish, comfortable ultralight down jacket, a children's winter suit or wool gloves for toddlers? Many interesting options are also waiting for you in Outlet section – where you can find real gems at very attractive prices. Take a closer look at Fluff's one-of-a-kind offer and place your order today to get ahead of autumn! 🙂